Home Services Company SEO Writing Case Study
RedShift Writers Website Content, Landing Pages, & SEO Case Study: Home Services Company

Organic keywords tracked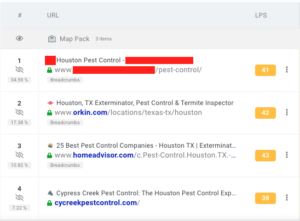 Client ranks number 1 on Google for "Houston Pest Control"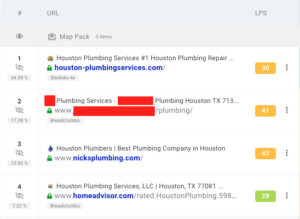 Client ranks number 2 on Google for "Houston Plumbing"
I don't write reviews very often and I don't take the subject matter of testimonials lightly. But I would be doing the business community at large a great disservice if I didn't champion the cause of RedShift Writers. These guys and gals are "just writers" in the same way that John Moore is "just a plumbing company." Far from the typical content assembly line typically associated with contract writers, RedShift comes prepared and fully loaded with a universe of "out-of-the-box" ideas and creativity. Every topic is thoroughly dissected, deconstructed and then reinvented in a way that takes the reader in a whole new direction while still answering the basic questions. Highly recommended.

Steve Lawrence, Web Developer for John Moore Home Services
An established major home service provider in Houston was lagging behind on customer reviews and Google search rankings in a crowded and competitive market. Part of the problem was a lack of a manageable content strategy. Customers were also leaving negative reviews because of outdated information and confusingly worded content on their website. 
The client was dealing with a lot of moving pieces: they offer eight different major services, and each department head has limited availability, so they needed a flexible team of writers that could accurately gather a lot of information and master their brand voice. We were tasked with writing content that could improve search ranking, inform customers, and instill in them the confidence needed for them to pick up the phone. 
RedShift Writers worked closely with a web-developer and marketing coordinator to establish an SEO writing content strategy. As a team, we elected to roll out our strategy in phases, with the first phase including a website revision that could be completed in a matter of months. Our team conducted interviews with the client's leadership, including the heads of all service departments as well as some C-suite executives. From this research, we drafted an

about page

and added over 20 robust service pages.

Service pages discussed:
The importance and benefits of each service

Our client's process for carrying out each service

Common warning signs that a given service may be needed

Warranties

Any further education that demonstrated authority and helped readers better understand the inner-workings of their home
After revising and adding content to their website to reflect current service offerings, RedShift Writers worked with the client to add and alter any services on the site as changes occurred. In addition, RedShift Writers worked closely with the web-developer to identify commonly searched questions regarding home services, and began adding these questions and answers to various pages on the website. Over time, we developed a glossary and FAQ with hundreds of terms and answers to questions that allowed our client's website to appear above the fold on Google's search engine results pages without having to pay for sponsored ads.
RedShift Writers was also part of the strategy team that developed other marketing ideas such as scholarship campaigns, holiday guides, blogs, and a microsite that all continued to cement our client as a cornerstone of the Houston community. 
Today the client's content reflects who they are as a leader in the market and they are well-positioned to continue building on that success. 
Drafted 35+ unique sub-service pages that each targeted a keyword related to the client's eight main service areas: plumbing, electrical, HVAC, heating, roof repair, lawn care, pest control, and renovations

Drafted 200+ hyper-local geo-specific landing pages across five main service areas that each targeted a subdivision or neighborhood in the Houston or Greater Houston area

Continued to revise site content to answer frequently Googled questions and adjust keyword usage accordingly

Created an on-going, robust FAQ and glossary page that crosslinked to keywords within service pages

Assisted with content strategy and direction for company blogs, guides, contests, and micro-sites
Looking to land the #1 spot on Google and establish your business as a thought-leader in your industry?
SEO for Home Services